In recent years, advances in fields such as biochemistry, molecular biology, and structural biology have led to rapid developments in the biological sciences. For the most part, such research has focused on the individual elements that constitute a biological system. To truly understand such systems, however, it is important to study the complex spatiotemporal relationships that exist between these elements, as these relationships are crucial for the dynamic systems that are required for life. The RIKEN Quantitative Biology Center (QBiC) aims to study these complex relationships through innovative measuring, analysis, and modeling technologies and techniques to recreate the dynamics of a fundamental biological system – the cell – by modeling it in a holistic manner.
Along with new technologies and techniques, however, a new approach is necessary. Cellular components communicate with each other in elaborate, complex networks that regulate an extraordinary number of cellular functions. As such, whenever an external stimulus is applied to a cell, these internal elements must respond accordingly to preserve proper function. In some ways, this is like giving an input to a computer and receiving the corresponding output. Yet this analogy is not apt, as cells use far less energy and are more adaptable to a stimulus. Thus a different paradigm is needed.
This is to come from the new technologies and techniques designed at QBiC, which will then be used to predict and manipulate cellular phenomena. Such abilities are expected to revolutionize the life sciences and their applications, including fields like regenerative medicine and patient diagnostics.

Profile
Toshio Yanagida
Director,
Quantitative Biology Center (QBiC)
Group Director,
Laboratory for Cell Dynamics Observation, QBiC
Professor,
Graduate School of Frontier Biosciences, Osaka University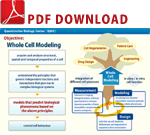 (217KB)