Now you see it!
Tissue transparentization experts speak at QBiC Symposium
Oct 11, 2016 Tweet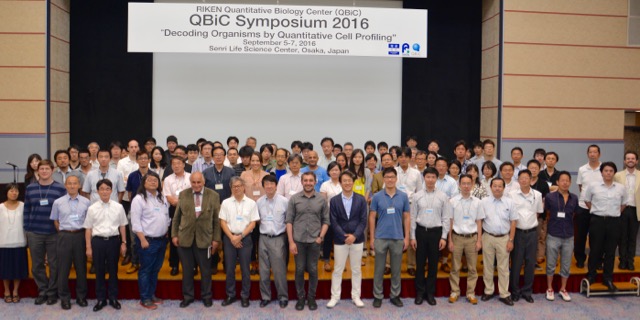 QBiC Symposium 2016 "Decoding Organisms by Quantitative Cell Profiling" was held September 5-7, 2016 at the Senri Life Science Center in Osaka. The symposium, the second of the annual series, was attended by about 140 researchers from Germany, Indonesia, the United States and of course Japan.
Symposium 2016 featured a phenomenal lineup of international experts in tissue clearing and transparentization, as well as super-resolution and electron microscopy. Highlights included, Professor Emeritus Thomas Cremer, who shared some of his decades of experience in a keynote talk on imaging chromatin organization in the nucleus. He also supplied a charming toast at the banquet on the second evening, which was received with hearty cheers of "kampai!"
QBiC is a forward looking research center and so, of course, the future of life science research was a hot topic. Talks on using robots and artificial intelligence (AI) for lab work were received with interest, enthusiasm and some skepticism. However, with closing remarks delivered by QBiC's resident AI enthusiast Koichi Takahashi, attendees left Symposium 2016 with deep thoughts on the future of science and humanity.
The full program with information on invited speakers and poster presentations is available here.