QBiC Symposium 2015: LET'S MAKE NOISE!
Sep 15, 2015 Tweet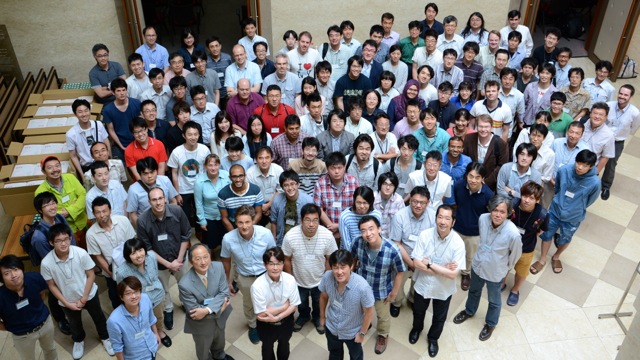 QBiC Symposium 2015, High-Dimensional Data for the Design Principles of Life, was held August 24-26, at the RIKEN Quantitative Biology Center (QBiC) in Suita, Osaka. The symposium, the first of an annual series, kicked off with a welcome from QBiC director Toshio Yanagida who declared, "Let's make noise! Let's make fluctuation!"
There was plenty of noise, fluctuation and debate with speakers and participants representing a wide variety of disciplines and many different countries. Approximately 20 speakers and 140 participants examined topics ranging from sloppy systems to artificial intelligence to perturbations in cell physiology. There were lively debates during the presentations and poster sessions and of course discussions continued over food and drink at the end of the day.
On the first evening guests enjoyed a catered reception featuring Suita, Osaka's very own Asahi beer among other delicacies. Well-nourished for days two and three, the symposium continued with presentations of ingenious experimental design and cutting edge technology.
The symposium concluded with remarks from Kunihiko Kaneko, director of the University of Tokyo's Research Center for Complex Systems Biology and a member of the symposium's organizing committee, who looked past the bottom-up versus top-down debate that was sustained throughout the symposium suggesting instead a top-up approach to quantitative biology. The sky is the limit perspective summed up this ambitious symposium and the conclusion was a smile inducing perturbation to a noisy QBiC Symposium 2015.