RIKEN-Hiroshima University collaboration starts
Mar 8, 2018 Tweet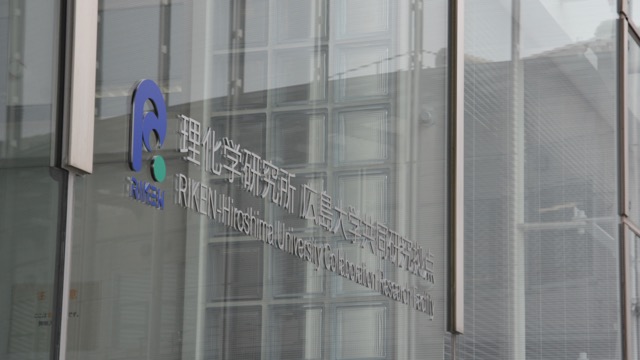 In order to promote collaborative research with Hiroshima University, the RIKEN QBiC Laboratory for Cell Field Structure (Atsuko Iwane, Unit Leader) was transferred to the Hiroshima University Innovation Plaza on November 1, 2017. The laboratory transfer coincided with the establishment of the RIKEN-Hiroshima University Collaboration Research Facility.
This was done as part of a transfer of some RIKEN functions based on the "Basic policy for relocation of government related organization" issued by Japanese government in March 2016. The laboratory transfer and the collaboration facility creation received substantial support from Hiroshima Prefecture and Higashi-Hiroshima City.
On March 1, a basic agreement was signed between Hiroshima University President, Mitsuo Ochi and Riken President, Hiroshi Matsumoto. A celebratory opening ceremony was also held with honored guests Hidehiko Yuzaki, Governor of Hiroshima Prefecture, and Hironori Takagaki, Higashi-Hiroshima City Mayor.
The facility is equipped with state-of-the-art imaging instruments such as a Focused Ion Beam Scanning Electron Microscope (FIB / SEM), Transmission Electron Microscope (TEM) and Confocal Laser Scanning Microscope. Using these instruments, RIKEN will promote research on 3D superfine structural imaging for various biological specimens.
In addition, RIKEN aims to establish quantitative cell evaluation methods and develop cell diagnostic methods, in collaboration with neighboring research institutes including the Hiroshima University Graduate School of Science and Hiroshima University Hospital.